Against All Odds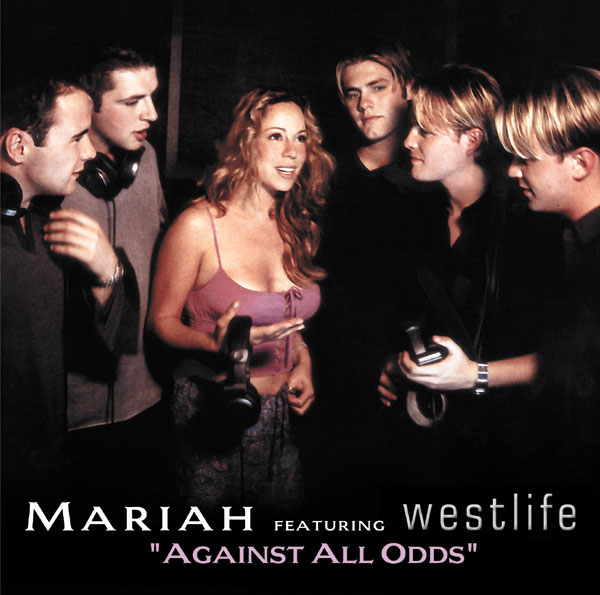 I did it in [Phil]'s key because I feel it was a magical key
Written by Phil Collins
Produced by Mariah Carey, James "Jimmy Jam" Harris ||| & Terry Lewis
Cover of "Against All Odds (Take A Look At Me Now)" by Phil Collins
OFFICIAL MIXES
3:25 Album Version
3:23 Mariah Only Version
7:53 Pound Boys Deep Dub
6:58 Pound Boys Dub
8:57 Pound Boys Main Mix
3:32 Pound Boys Radio Edit
3:23 Single Edit featuring Westlife
3:23 Westlife Only Version
ABOUT THE SONG
"I have a lot of ballads too. I did a remake of Phil Collins' "Against All Odds," which when I was growing up, you know, was one of my favorite songs."

What I tried to do with this album is incorporate the ballads with the songs that are more, you know, the uptempo records, and use interludes to kind of segue between them so that you wouldn't feel this, this jolting thing, you know. So I told you about the cover of 'Against All Odds' - it's pretty hard to go from a record with Missy Elliott and Brat, that's a loop of a Snoop Dogg record, to 'Against All Odds,' but because working with Jimmy Jam and Terry Lewis, who are really genius at figuring out interludes and we really had a great musical partnership, we kind of figured out how to make these transitional pieces that would make the album work. And I think sequencing this album was really important, and I tried to kind of tell a story in the sequencing and make it all make sense.

MC: I think that on this album, it's the closest to how my voice was on the first album in terms of range. I mean, I don't know if you agree, except that I have more deep tones at this point. If you hear like the "Mariah's Theme" and "Bliss," and, umm, "Against All Odds," I mean, there was a clarity…

CS: You're going to get in trouble for that one, too.

MC: Yeah, they're going to rag on me for that? Why? Because it's pop? Or because

CS: You've read all your reviews…

MC: You think it's too showy, like?

CS: I'm not saying that I feel that way, I'm just saying, I just know the critic mentality, I know what… You know, it's like I can, I've just done this so much, I know what people are going to look for…

MC: Yeah, they're going to rag on that, perhaps…

CS: But do you care?

MC: You know what? I'm very sensitive so, maybe I'll care for the, if I read it, I'll care for that day, but you know what? I did that song specifically — I love that song and they can say whatever they want to say — but, I did it in his key because I feel it was a magical key and I could have taken it up, and it was more in a key that would have been more, when I got to that point at the end, it would have been more emotional, 'cause I would have been reaching for it, but I wasn't reaching at all. And so I took it up an octave at the end and tried not to be all over the place with it, but emotionally that's where it was. And it was, like, pretty much a one or two take thing, and it was actually at a friend of mine, her father had just passed away and she was on the phone with me and she was crying and she was saying a lot of the things that were being said in that song — she hadn't had much of a relationship with him. I had to go downstairs and sing that. And so, it was like, kind of a deep moment, so. I mean, I think if you listen to the verses… If a critic wants to blindly thrash me, there's ample opportunity with the fact that yes, I'm singing, you know, a lot of high notes. Yes, I'm belting and people might say I'm over singing on certain songs. Eat, drink, dance, whatever.

"Everybody used to say to me, 'Who would you like to do a duet with?' or 'Who would you like to sing with out of everybody in the world?'" explained Westlife's Mark Feehily. "And I was always like, 'Mariah Carey.'

"Today, now, we're in a recording studio doing a duet with her, and you could never imagine how much it means to me."

For Carey, cutting a new version of "Against All Odds" gave the singer a chance to work with a talented group of young male singers, much as she did back in 1995, when she drafted Boyz II Men to back her up on the number one song "One Sweet Day," and last year, when she teamed up with 98 Degrees for "Thank God I Found You."

"I thought it would just be a cool thing to do," Carey said, "to kind of turn it into a duet and combine what they do with what I do. They stack a lot of harmonies, so we made the song kind of a different thing. But it was an easy process. It wasn't like some difficult drama."

worldpop: How did the collaboration with Westlife come about?

Mariah: I met Westlife at a party a couple of months ago. A friend of mine who works at Arista, Keith Affdellie, introduced me to the guys and they were really cool - my mum is Irish of course so that helped. I think it might have been Keith's suggestion that we should collaborate and do something global, so a duet was a natural choice.

worldpop: How did you manage to get the duet recorded on the island of Capri off Italy?

Mariah: Well, I was also there to record music for the soundtrack to my film All That Glitters. I also directed and produced the music video with the help of my friend Senna - we tried to document the making of the song, Westlife coming over on the boat and me coming from the World Music Awards on the plane.

Swear It Again - Westlife singing the F-word to Mariah?!

worldpop: We know Westlife fancy you, have any of them tried to ask you out?

Mariah: No, they haven't tried to come on to me - they've been quite respectful actually. You know what? They're trying to teach me an Irish accent but I can't master it yet.

worldpop: Can you give us an impersonation?

Mariah: I can't unless they're here to help me. They sang some Irish songs, and to me it sounded like they were singing the F-word a lot! I said, what's that word you're saying? And they were like 'No, no, no, that just means such and such in Gaelic!'

Fool Again - Ms Carey shows Westlife who's boss!

worldpop: How did Westlife take to you bossing them around in the studio?

Mariah: I don't think of myself in that way, I try to be accommodating to their way of thinking. The whole thing wasn't a drama or anything, but even though they're just starting out they can get a little egotistical, and they get full of themselves a tad, but why not? These guys have had five Number Ones internationally, and that's pretty impressive! At the end of the day they are really down to earth, and I hope that quality stays with them because it's such a shame when you see people whose heads get blown out of proportion after just two hits.
MUSIC VIDEO
AVAILABILITY
1999 Released on the Rainbow album.
2000 Duet version released on Westlife's Coast to Coast album.
2001 Included on international versions of the Greatest Hits compilation.
2009 Included on international versions of The Ballads/Love Songs compilation.
2015 Included on international versions of the #1 to Infinity compilation.
LYRICS